By Kristy @ Mar 29, 2012
Last year we started hearing about these fun ways to find out the gender of your baby with you and your spouse. So, we thought it would be fun to turn it into a party and invite all your special friends and family to find out together!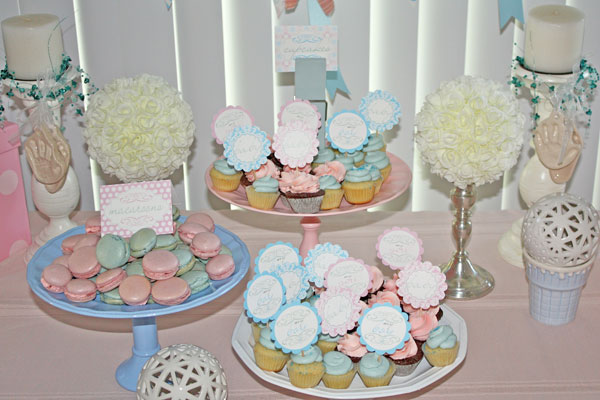 Don't great minds think alike? Because Gender Reveal Parties are all the rage now! And, if you haven't been to one or thrown one yourself, let me tell your first hand, how much fun they really are. There is nothing more special than experiencing first hand the joy expressed by the soon to be parents finding out!
Last summer our baby sister found out she was pregnant with her first child. We decided we wanted to do something special for her, so we threw our first ever Gender Reveal Party!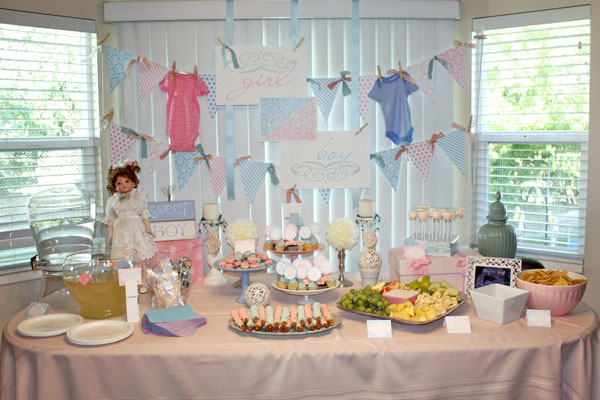 For the color scheme, we decided to keep it generic... baby pink and baby blue. When you are pregnant with your first especially, those two colors are all you think about! We knew that the actual reveal had to include those colors, because what other way can you say you are having a girl than with pink? Right?
For our banner, we switched it up a bit and did a larger, more modern style banner printed on 11"x17" pieces of paper, hung with some clothes pins and ribbon. We then made some custom pennants to match all our patterns previously created and hung them with pieces of coordinating fabric tied in between.
We then hung a blue and pink onsie on each side to add to the baby effect.
For the food table we designed some custom food cards, which will be custom for each of our customers. We also made the adorable cake stands, which we'll be doing a DIY project on next week, so check back.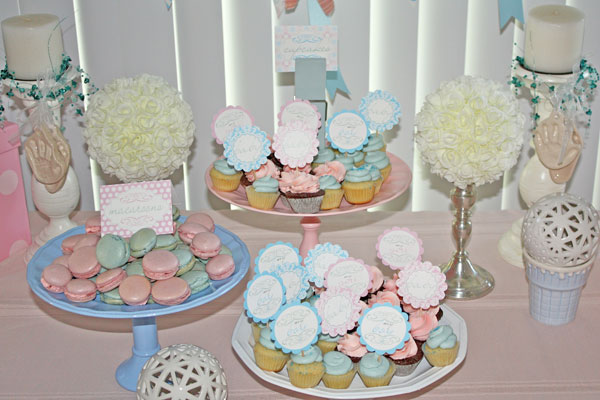 We had the most aaaamazing food! One of my sister's best friends made us some killer macaroons (color coordinating of course) and mini cupcakes. We also had chocolate covered marshmallows, carmel & chocolate covered pretzels, fruit & dip, and artichoke dip with chips! We had vinyl girl and boy words placed on each of the food plates. It was fun seeing which plate everyone chose as our way of seeing which sex they thought it would be.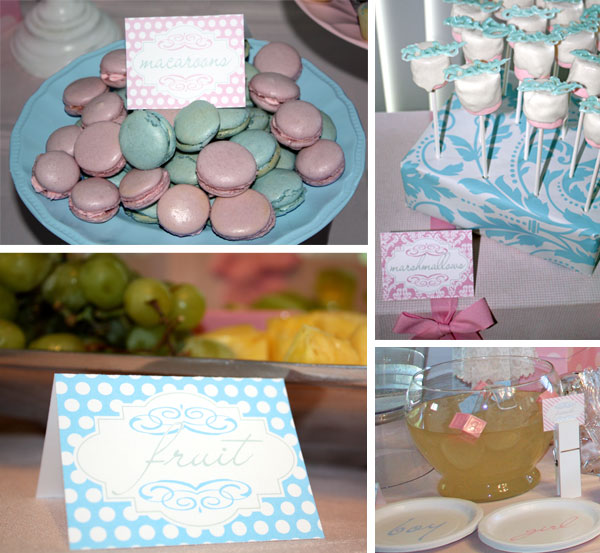 We set up a gift table and on the invites we let everyone know that if they wanted to bring a small gift (one of each sex) for the couple they could. It was really fun and simple. They got a bink pacifier, and girly bib, a cute girl owl onsie, another girly onsie, and a cute pink blanket! The people who brought the gifts of course got to take their boy gifts home with them.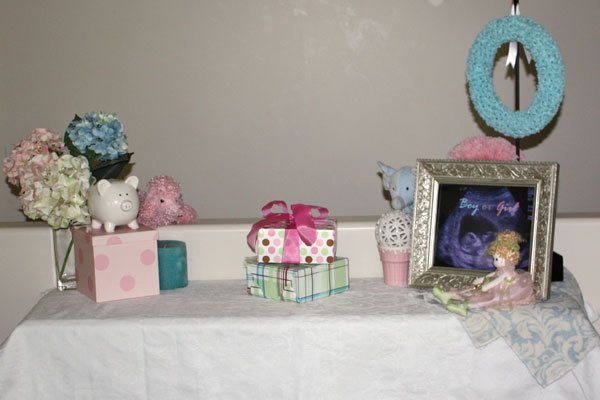 In the PDF PRINTABLE COMPLETE PACKAGE you also get a png. file of the 'girl or boy' logo, that you can print onto a sonogram picture for the display as well. We think it's a great way to personalize the party a little more for the soon to be parents.
We had to capture a picture of the proud parents holding the appropriate cupcake after the reveal!
Congrats Jake and Angie, we are so happy for you!
These are all the items that are included in the BABY GENDER REVEAL COMPLETE PACKAGE ONLY.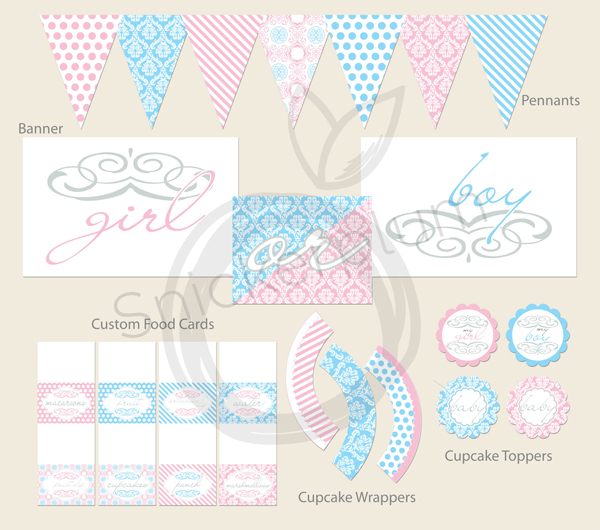 Since we decided to do mini cupcakes we didn't use our cupcake wrappers, but here is a picture of one of them.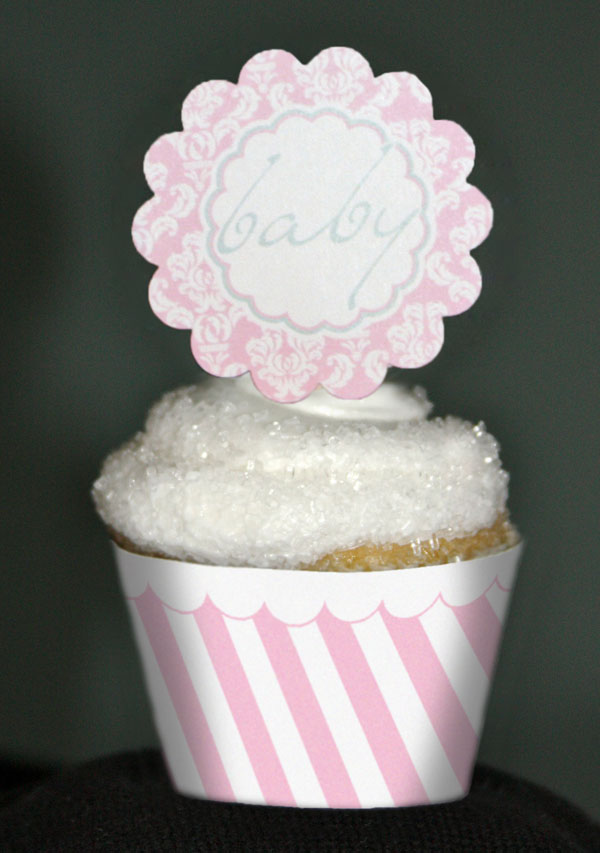 PRINTED PRODUCTS:
Baby Gender Reveal Party Cupcake Toppers
Baby Gender Reveal Party Cupcake Wrappers
Baby Gender Reveal Party Banner
Baby Gender Reveal Party Complete Package
PDF PRINTABLE PRODUCTS:
Baby Gender Reveal Party Cupcake Toppers PDF
Baby Gender Reveal Party Cupcake Wrappers PDF
Baby Gender Reveal Party Banner PDF
Baby Gender Reveal Party Complete Package PDF
**For more about the actual reveal, check our previous post.**